We want to help you learn more about HVAC systems so that you can make the best decision for your family or business, no matter if you need heating or A/C repair, a new installation, or HVAC system maintenance. We've been in the heating and cooling business since 1996 and have acquired a wealth of knowledge that you can benefit from. Ultimately, we want to help you save money while staying healthy and comfortable in your Virginia Beach home.
Some Helpful Tips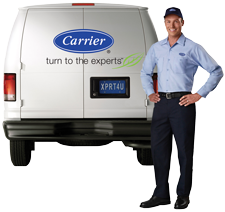 The best advice we can give any customer is to prevent common A/C and heating problems with regular maintenance. Taking care of your system will make it more efficient while minimizing the risk of system failures and expensive emergency repairs. Here are a few more tips for reducing your energy bills while staying comfortable all year long:
Don't set your thermostat lower than the desired temperature in an effort to cool your home faster. This strategy does not work because it will require the same amount of time to get to your target temperature, no matter how low you set it. But by the time you notice that it is too cold, you will already have wasted energy.
Use Energy Star-qualified fans in occupied rooms to circulate the cool air. The breeze blowing on your skin will make you feel more comfortable even with a higher temperature setting.
Check the air filters monthly. Clogged filters force the system to work harder, which has two negative side effects: reduced efficiency and faster deterioration of the system.
Start the season with a preventive maintenance check. This affordable service call gives the technician a chance to look under your AC's hood and identify any obvious trouble spots. This tune up also makes your equipment run more efficiently while increasing the operational life.
Move any furniture, curtains or other items that are blocking your heating and cooling vents. You don't want to restrict the airflow and force your system to work harder than necessary.
Relocate lamps and other heat-emitting appliances that are near your thermostat. The false readings could be costing you extra money every month and add to the wear and tear on your equipment.
Check the outdoor unit often to clear away any leaves, brush, lawn clippings or other debris.
We're Here for You When You Need Us!
If you have any urgent HVAC questions or need AC services, you can contact the NATE-certified technicians at White Goods Services. We look forward to meeting you.
Virginia Beach, Chesapeake & Norfolk, VA
White Goods Services, Inc.
January 6, 2016
2018/04/26