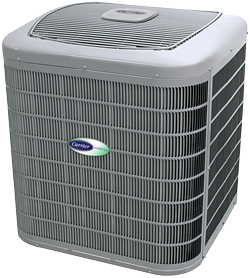 Is your Air Conditioner not working?
Here's some advice before you call:
---
Contact a landlord or property manager FIRST.
If you are renting your property, the landlord, owner, or property manager needs to be contacted first, before service technicians.
White Goods Services, Inc. achieves your goals for comfort, reliability, and affordability.  Established in 1996, we specifically target the challenges faced by homeowners in Virginia Beach and the surrounding area, bringing you a range of options for superior temperature control.  Through higher quality products and workmanship, we ensure that your most exacting demands are met with lasting performance.  To enjoy greater value from your investment, and total satisfaction throughout the installation process, trust the NATE-certified, factory trained professionals from White Goods Services, Inc..
Reliable A/C Installations
Waiting for an outdated cooling unit to fail before upgrading usually adds up to both wasted time and money.  Inefficiency, frequent repairs, property damage, and degraded air quality are just some of the consequences.  Don't wait to improve the enjoyment and comfort of your indoor environment.  Modern models feature advanced temperature and humidity controls, zoning capability, WiFi access, superior filtration systems, and outstanding efficiency levels that quickly recover the investment cost.  If you have concerns with your current system, contact White Goods Services, Inc. to evaluate condition and performance.  We'll provide recommendations, and help you explore options.  As a Carrier Factory Authorized Dealer, we offer everything from basic cooling to the epitome of luxury, with many ENERGY STAR qualified units.
Count on White Goods Services, Inc. for all your air conditioning installation needs!
Our team of fully licensed and insured specialists complete all work properly, at competitive prices, and within a strict time range.  Know that we pay attention to every factor that adds up to rewarding results.  We meet your unique requirements with the ideal system, carefully sizing and installing top quality equipment to ensure year after year of efficient and consistent performance.  A project handled by White Goods Services, Inc. is a job done right from start to finish. As our dedicated customers across Virginia Beach, Chesapeake & Norfolk, VA already know, Don't Fuss… Just Call Russ.
---
Virginia Beach, Chesapeake & Norfolk, VA
White Goods Services, Inc.
January 6, 2016
2018/04/26