Is your HVAC system not working?
Here's some advice before you call:
---
Make sure the thermostat is set properly.
The main control system for any HVAC unit is the thermostat. If your HVAC isn't turning on, consider checking your thermostat for dead batteries. Some people don't realize this simple trick and end up making an unnecessary service call.
As your local, boiler specialists, White Goods Services, Inc. offers installation, replacement, maintenance and repair.  We handle every application, from large apartment complexes to the average-sized home.  Through a diverse range of sizes and fuel options, we've created perfect comfort in homes and businesses across Virginia Beach and the surrounding area since 1996.  Know that when you call on White Goods Services, Inc. for hydronic heating service, we draw from extensive in-field experience, factory training, and industry resources, to deliver sustainable and cost-effective results.
Boiler Installation Experts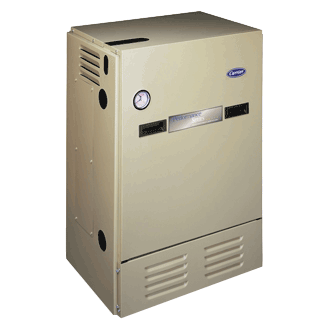 White Goods Services, Inc. is a Carrier Factory Authorized Dealer, and as such, our NATE-certified team receives ongoing, industry training.  We are current in advanced technology and specialize in the most sophisticated options in home and commercial heating.  Carrier's breakthrough boiler systems feature durable stainless steel or titanium burners, heat exchangers constructed from cast iron or cast aluminum, and ENERGY STAR rated models.  These systems are perfectly engineered to infuse heat into the air, eliminating the drafts and temperature fluctuations of forced air alternatives.  Whether you rely on a radiator, baseboard heating, or radiant flooring, count on your boiler for silent, efficient, and exceptionally clean operation.  You'll also benefit from zone control, allowing room-by-room customization, and eliminating the energy waste of heating unoccupied spaces.
Give White Goods Services, Inc. a call when you need boiler repairs, service, or installations!
Don't trust the installation, maintenance, or repair of your hydronic system to just anyone.  Improper installation of your boiler can hinder efficiency by up to 30%.  Careless maintenance shortens service life.  By handling each step and detail of every service with expertise and care, White Goods Services, Inc. ensures reliable, satisfying and lasting performance.  Our technicians are fully licensed, certified, and factory-trained.  They utilize hands-on experience, advanced diagnostic equipment and specialized tools.  White Goods Services, Inc. protects the investment value and quality of comfort for home and business owners across Virginia Beach, Chesapeake & Norfolk, VA.  Don't Fuss… Just Call Russ.
Virginia Beach, Chesapeake & Norfolk, VA
White Goods Services, Inc.
January 6, 2016
2018/04/26